This is not your typical Events and Happenings where I tell you about something incredible in the bookish world that I just couldn't keep to myself. This is more a query for other blogger friends or people familiar with the blogging community.
Twitter Tags in Blog Post Titles
I have seen it in a few blogger's posts and found it to be a pretty inspiring idea. That way when Networked Blogs or whatever way you choose to auto-post blog posts will tag those involved in the post. For example, say you are reviewing a book for an author or publisher... using the Twitter tag automatically links them to your post so they know you have written about their book. Let's face it, authors and publishers follow thousands if not hundreds of thousands of people and there is no way they can go through their entire feed just to find one, single blog post by one, single blogger. That is why... I think from now on I will start Twitter linking authors or publishers in my Reviews, "Waiting On Wednesday", "Events and Happenings", and any other posts I see fit. It's convenient for me, it's convenient for them, and that is all that matters... convenience.
To give credit where credit is due, the blogger that I have seen this most often on is Bookhounds. Thank you for the awesome idea!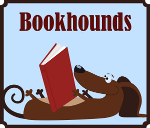 What do y'all think of twitter tags in blog post titles?